Longview Physical & Sports Therapy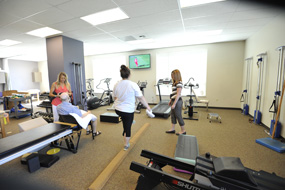 Longview Physical & Sports Therapy is committed to providing quality physical rehabilitative services to clients throughout Southwest Washington.
Our goals include timely, personal, and effective treatment, delivered in an environment that encourages positive results.
We have an exceptional staff that includes physical therapists, occupational therapists, athletic trainers and physical therapist assistants with more than 90 years of combined professional experience.
LP&ST offers comprehensive orthopedic and manual therapy, sports and recreation injury treatment, work-related/industrial injury treatment, and much more.
You'll benefit from one-on-one care, advanced treatment techniques, and state-of-the-art equipment, including pilates.
We are locally owned and operated and actively involved in the community through our partnerships with R.A. Long High School, Castle Rock High School, and Lower Columbia College.
Longview Physical & Sports Therapy (LP&ST) was founded in March 2004 by physical therapists Bruce Peterson and Dave Knoeppel.
Bruce came to Longview in 1978 to work for Longview Physicians Physical Therapy. He became a co-owner in 1988. During the mid-'90s, the business was sold to HealthSouth. At that time, Dave was working for HealthSouth's branch in Everett, Washington. He transferred to Longview in 1998 and later partnered with Bruce to form Longview Physical & Sports Therapy.
LP&ST was first located in the Fir Medical Complex in Longview. Bruce and Dave moved the business to Pacific Surgical Institute's new facility when it opened in June 2006.
Today, LP&ST is staffed by 10 physical therapists, a certified athletic trainer, and two physical therapist assistants. The clinicians at LP&ST have more than 90 years of combined professional experience.
Disclaimer:
The pictures displayed in Longview Physical & Sports Therapy are images of physicians, patients and employees who have consented to have their pictures in this website.


Website Design & Educational Content © Copyright 2023 Medingenuity, LLC MedIngenuity, LLC
Medingenuity develops content-rich educational web sites for physical therapy companies.